Have you been a victim of Image Based Sexual Abuse aka Revenge Porn?
As a survivor and having directly been affected by this, I am putting myself out there!
Over the last 2 years I have worked tirelessly to help victims take back their power and learn how to take control of the impact this crime has. Its abuse and shouldn't be tolerated. Let us stand together and make a difference, let us heal together and share our journeys. I know that it isn't easy to 'stand up and speak out' about being abused – trust me it was a decision I didn't make lightly but I feel so much better for doing so.
Working in collaboration with Sarah, an artist/activist I am taking part in the 'Digital Abuse' project –  which is a collaborative effort between artists and activists that uses education, empowerment and visibility to facilitate discussion, raise awareness and combat public perception of Image Based Sexual Abuse and the treatment of women online.
There are many ways in which you can speak out about your trauma! You don't have to use words. Here is one of my journey photographs that I did with See It From Her – Survivors Project in 2016.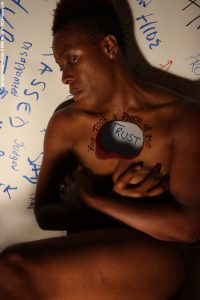 We are hoping that you are also ready to share your journey, share the burden and release some of that stigma that comes with being a victim of abuse.  We encourage you to join us in a united front. If you are ready to share and take back your power and would like to make a difference, come along to our creative workshop on the 13th and 14th of May.
The workshop will provide a 'safe space' to share and express and will take place in a relaxed, supportive environment surrounded by people who are passionate about challenging the public perception of IBSA. I will be there as part of your recovery journey as I am passionate about 'righting wrongs' and 'restoring faith in self'.
Day One:
Discussions and talks from activists, victims and artists as well as short creative workshops to help you to decide what you would like to create.
Day Two:
Will be dedicated to collaborating with artists to make those ideas a reality.
We hope the workshop and exhibition will form a strong support network for those who are suffering alone and in silent. You will have the opportunity to meeting new people, share your burden & rid the shame in a bid to regain your power by turning a negative situation into a positive experience.
The workshop will be held on the 13th and 14th of May in Manchester at the Nexus Art Cafe, with the exhibition taking place sometime in June.
We are able to offer travel and accommodation to people who would like to take part but do not live locally, however these funds are limited so please get in touch as soon as possible by emailing me info@voic.org.uk.

Comments
comments